The weirdest thing happened this morning.
I went to the store. All by myself. And when I had to use the bathroom I didn't have to worry about anyone licking anything because my sweet angels were in a magical place called school! Also it took, like, twenty minutes. Total. For real.
As we gathered in the library (best invention ever!) my heart was so full with gratitude that we are in a community with these parents and teachers and brave little ones.
I say brave because remember?
First days of … anything. All those unknowns. The who will sit by me at lunch? Where will that even be? And when? What if I spill my tray? (I don't know maybe you didn't have so many questions?) Then the what will the teacher be like? Will my teacher like me? Will I like my teacher? (I didn't actually wonder that, my kids are more confident than I was to have that one on their mind).
What if it's too hard? What if I have to use the bathroom? What if no one wants to play with me at recess?
And still … with all these questions … these kindergarteners, first graders and second graders stepped forward when their names were called, some nudged by parents, siblings and friends, and they moved into the adventure of a new year that awaits.
As these little ones formed a line (or approximated a line, which turned into more of a swarm) they stood side-by-side with peers who will teach them just as much as their teachers, maybe.
I was so full of joy, love and gratitude at how welcoming the teachers and principal were, how encouraging and fun it was to see my parent friends and to witness these acts of bravery, I didn't have the little cry I expected to have about my baby being off to school.
I told myself that's because it's a JumpStart program, not "real" school. But, so it begins.
And I think we're ready.
So far the answer to what I'm going to do all day is think about my kids. Write a bit. Go to the grocery store delightfully by myself, clean the fridge without stopping twelve times.
And, now that I think of it, have myself a little cry.
I wrote more about this transition in my last column: Savoring the Seasons as they Come … what do you bet I write about it again? Like, say, tomorrow.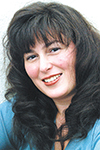 Nathalie Hardy recently published her first book, "Raising the Hardy Boys: They Said There Would Be Bon-Bons" available at local bookstores and online. Hardy writes in the margins of her life with two little boys and a husband who understands deadlines come before dusting. To contact her, visit www.nathaliesnotes.com. Hardy writes in the margins of her life with two little boys and a husband who understands deadlines come before dusting.